Smart Cover anti-bruise cream works fast on reducing bruise appearance!
Tuesday, October 23rd, 2012 at 4:49 AM
Want to lose weight? There's an app for that. Well, actually there are several. Check out our picks for the top 12 best fitness apps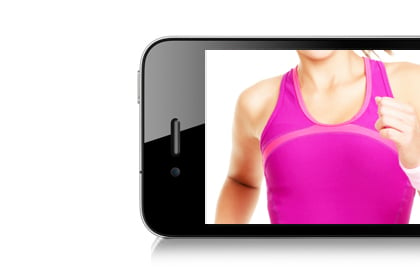 This is a TotalBeauty.com diet article
From Instagram uploads to driving directions, we use our phone for pretty much anything and everything. So it's no surprise there are countless apps created to help keep us fit and healthy. But which ones are worth buying? These are.
Oh Gorgeous, wait til I get the photos on this post! It was too good of an experience to wait on the post just because I'm traveling and can't seem to get my photos onto blogger via my phone.
So I tried this cream and it worked so good!
So light, easily absorbed and best of all, fast acting on reducing the size and appearance of a bruise!
So ladies-if you have maintenance schedule for your face and you want to help the healing process along, order your Smart Cover anti-bruise cream before pre-op!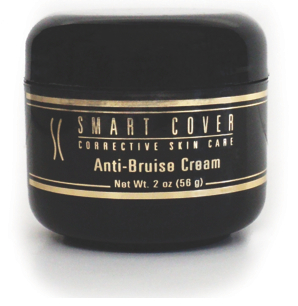 Black and Blue and Looking for Relief!
A new solution for people who bruise easily.
It's a healer, not a concealer.
The Anti-Bruise Creme from Smart Cover Cosmetics
Finally
there is help for those noticeable bruises that can occur from a trauma
to the skin on your face or body. Many of our customers have told us
this happens more often as you age or when you are on certain
medications. Of course bruises can happen at any age, and it does affect
the appearance of your skin and what you wear. The natural ingredients
in Anti-Bruise Creme include Arnica, Green Tea, and Emu Oil help
speed the healing process and soothe the damaged skin so you look better
a lot faster!
Not
only does it work to fade the bruising that can occur after anti-aging
injections (Botox, Juvederm, Radiesse, etc.). This dual action formula
also has a calming effect on Rosacea, Post Laser Redness, and Couperose
skin. Therapeutic, silky and fragrance free, the Anti-Bruise Creme is
the newest addition to Smart Cover's Corrective Skin Care line. And
while you're healing, you can start concealing with Smart Cover's line
of camouflage cosmetics!
Problem solving products for visible results!
Retail Value: $29.95 for a full 2oz. size
Introductory Price for a Limited Time only of $19.95
Anti-Bruise Cream
A Breakthrough in Bruise* Control
How to apply Anti-Bruise Cream
(It is advisable to use Anti-Bruise Cream shortly after bruising occurs.)
1. Be sure skin is clean and dry.
2. Apply small amount of cream to affected areas.
3. Gently pat with fingertips until absorbed.
4. Use twice a day for best results.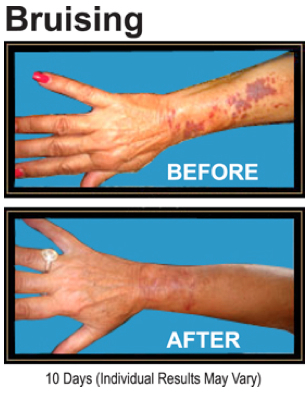 Anti-Bruise Cream is also recommended to improve the appearance of Rosacea, broken capillaries and laser damaged skin.
*A bruise is caused by trauma to the skin which causes broken blood vessels and noticeable discolorations.
Ingredients:
Water, Helianthus Annuus (Sunflower) Seed Oil, Arnica Montana Flower
Extract, Glyceryl Stearate, PEG-100 Stearate, Emu Oil, Mineral Oil,
Cetyl Alcohol, Tocopheryl Acetate, Stearic Acid, Sodium
Borageamidopropyl PG-Dimonium Chloride Phosphate, Camellia Oleifera Leaf
Extract, Cyclopentasiloxane, Cyclotetrasiloxane, Dimethiconol,
Triethanolamine, Propylene Glycol, Diazolidinyl Urea, Methylparaben,
Propylparaben.
Remember: you are beautiful!
Thank you for visiting the blog and check back for promotions and beauty giveaways!
Tagged with: Anti-Bruise cream • how to cover a bruise • how to heal a facelift • how to heal rosacea • Makeup University webseries • Smart Cover • Smart Cover concealer
Filed under: Uncategorized
Like this post? Subscribe to my RSS feed and get loads more!