Back to School hair: simple at home hair color with U Color Italian demi color
Monday, August 6th, 2012 at 8:41 AM
Before you dial-in your usual order of greasy Chinese take-out, try one of these tasty (and healthy!) microwave recipes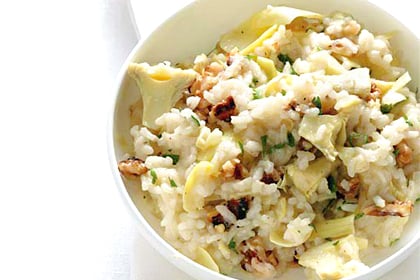 This is a TotalBeauty.com diet article
After leaving the office, the last thing you want to do is slave away in your kitchen — which is why your fridge is decorated with take-out menus and your freezer stocked with Lean Cuisines. But who has time for a home-cooked meal? Surely not you, right? Wrong. If you've got a microwave, you've got the only appliance you need for a quick and healthy meal. Just follow one of these easy recipes that you can actually nuke from scratch.
Hi there gorgeous!
Are you getting ready for back to school on a budget?
If a salon visit isn't in your budget but you want to put a fresh gloss of color on your hair to add some oomph-try the affordable U Color by Umberto of Beverly Hills available at Target and Ulta.
I love the smoosh packets that are literally mess and fool proof: simply wear the gloves, snip the tip, the smoosh onto your hair and continue smooshing the color into your hair to get it saturated. Let it set the appropriate time-and perhaps paint your toe nails in the meantime-then rinse and wah lah! Lovely!
I have samples of 8.40 Topaz and 1.0 Natural Black-I'm thinking of weaving these colors with foils through my hair for a very bold Fall color look! Stay tuned!
U Color is under $10.00 with lots of color selections available!
Remember: you are beautiful!
Thank you for visiting the blog and check back for promotions and beauty giveaways!
Tagged with: 2012 back to school • Makeup University • U Color • U Color Natural Black • U Color Topaz • Umberto Beverly Hills hair care
Filed under: Uncategorized
Like this post? Subscribe to my RSS feed and get loads more!