Monday, January 31st, 2011 at 1:44 PM
Find out all the different forms of hair removal and pick the one that's right for you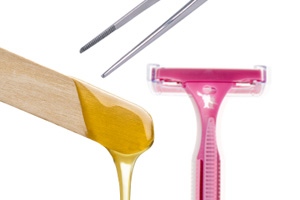 This is a TotalBeauty.com hair removal article
Because of the stigma sometimes associated with facial hair, you can become self-conscious, suffer from self-esteem issues and/or become reluctant to enter into a romantic relationship. But, don't despair! Check out these options on removing facial hair now.
The TriWest Healthcare Alliance Shot at Glory Returns to the Famed 16th Hole »
Ever wonder what it would be like to hit a shot on the famed par-3, 16th hole at the TPC Scottsdale during the Waste Management Phoenix Open? Birds Nest anyone?

**Hello Gorgeous! Enjoy the golf speak before we actually talk beauty and all things lovely?
I'm holding in these photos a superb collection of the new scent and packaing in Crabtree & Evelynn. It's a luscious pear floral layered with sweet and tangy scents.
If you are attending the PGA Tour here in Scottsdale, playing golf, watching or entertaining for golf I highly suggest you run down to the local mall with a Crabtree & Evelynn retail front and get a set or two of these luxurious pampering body treats.

Camilo Villegas, Vijay Singh and Y.E. Yang Among Latest Commitments to 2011 Waste Management Phoenix Open »
Three-time PGA TOUR winner Camilo Villegas, two-time Phoenix Open Champion Vijay Singh, 2009 PGA Championship winner Y.E. Yang and 2008 Masters Champion Trevor Immelman
**Again, more love golfspeak that is here courtesy of the www.wmphoenixopen.com website-thanks for sharing.
Look, don't take my word for it-just because my experience with the lotions and soaps was sumptuous and creamy while also being decadent to the sight, smell and touch-you should get this for your guest bathroom and office building bathroom to help bring the nature of the business up a notch!
Or, just get it all and keep it for your self-no harm in that either because you will have lovely moisturized scented skin. Enjoy the time at the Waste Management Phoenix open and please remember to wear sunscreen!
Remember: you are beautiful! Thank you for visiting the blog and check back for promotions and beauty giveaways!