Wednesday, September 29th, 2010 at 12:39 PM
Take this true/false quiz to see if you can separate fact from fiction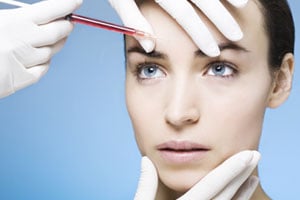 This is a TotalBeauty.com skin care advice article
Expert skin doctor, Dr. Derek Jones, debunks the popular myths about cosmetic injectables. Test your knowledge now.
Fine thin hair got you down? Perk up a flat style for Fall 2010 beauty trend by puttin' some Bosley products on!
Now I started with clean damp hair and then proceeded to use all four products. At once!
I sprayed all the hair from roots through the shaft with the leave-in nourishing thermal protector spray.
Then I worked the gel into the roots of my hair for some lift and volume.
Next I used the mouse through the mid-shaft of hair to the ends.
I used a blow dryer to dry my hair upside down for volume and effect. When I flipped my hair over it was full! Pow! I finished it with a serious hosing of the Bosley volumizing and thickening hair spray which only fattened up my hair more! I pushed it into place and went about my business for a few hours before taking my after picture because everyone's hair looks great when you first do it. The effect of life on a hairstyle hours after doing it and the style surviving driving, heat, stores, shopping, meeting clients…that's the effect I'm looking for and found.
The Bosley products contain a LifeXtend complex which is an exclusive blend of ocean marine, plant and biogenic ingredients that create the ideal conditions needed for hair preservation, growth and restoration.
With that said, the products just smell good and feel good so get some today!

Remember: you are beautiful! Thank you for visiting the blog and check back for promotions and beauty giveaways!