Thursday, April 30th, 2009 at 9:29 PM
In a sea of styling aids, these 13 are tops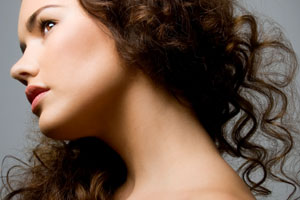 Curly-haired ladies, the search is over. According to TotalBeauty.com editors and users, these products successfully tame, soften and sculpt curls to their finest, Botticelli-esque state. Read on to find out which conditioners and styling aids will finally get you to stop calling your hair "kinky," "frizzy" or (gasp!) "shapeless."
I don't have curly hair, it's wavy. And only along the back of my head up to the ears. It's a wee bit odd. The very crown of my head is straight. Talk about product challenges!
I know that my friends who have very curly hair are always concerned about frizziness and there are some suggestions in the daily beauty bubble to deal with those concerns.
In the meantime, check out www.wehelpwomen.com for registration to the Makeup 101 class I am teaching on May 4th.
If you know of a lady who is in a "transitional' point of her life, please refer her! I love the opportunity to work with women who don't normally have access to a professional makeup artist.
See you there!
Visit http://www.makeupuniversity.com for information
Thank you for visiting the blog and check back for promotions and beauty giveaways!